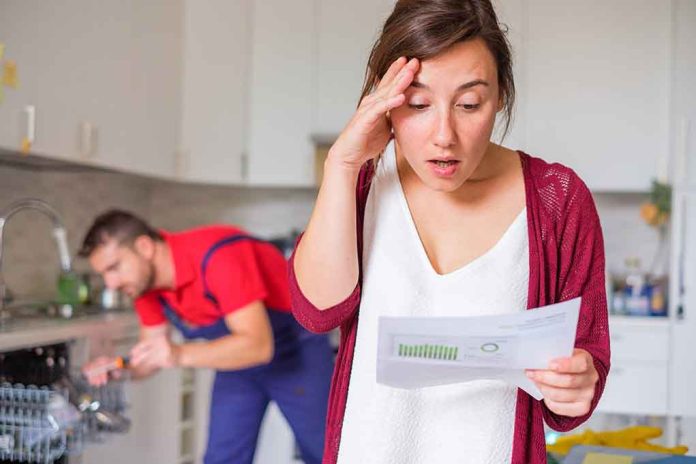 (DailyVibe.com) – Home repair costs can be prohibitively expensive, but if you do not take care of critical repairs like roof repair and replacement, you'll end up incurring water damage and other expenses. Other repairs such as appliance replacement and insulation can also prove expensive — and problematic if you let the problem go. If you don't take care of things, one little repair could result in rising energy costs.
When your home has experienced regular wear over the years, or if your limited finances forced you to buy a home "as is," you understand how difficult it can be to pay rising costs while budgeting for home repairs. This is especially true if you're also paying a mortgage.
Lower-income families experience the most difficulty here, as that problem you can't fix now becomes a much more expensive problem later. If you try to sell the property without doing the repairs first, you could even lose money on your home, especially if the market isn't hot when it's time to sell.
Fortunately, there is help for qualifying low-income households.
Home Improvement Loans and Grants from the Department of Housing and Urban Development (HUD)
HUD has several options that can help you if you're in need of home repairs but can't afford them. Low-interest loans are the most popular among them, but HUD also offers grants. Among the most popular is the Section 203(k) rehabilitation and repair loan. It's a mortgage that you apply to the purchase or rehabilitation of a home that's at least one year old.
To qualify for this, your property must meet a conventional loan's standard established values, and, as a borrower, you must spend $5,000 or more on the rehabilitation. Usually, costs like roof replacement, major landscaping, and disability access count.
A mortgage or refinance, however, is a risk, especially if your finances are already stretched. Instead, you could consider a Title I loan, which goes towards "useful" improvements like built-in appliances, accessibility considerations, and solar energy installations. These do not apply to luxury items, such as pools, but nonresidential structures such as storage sheds may qualify.
Section 504 Home Repair Program
Meant for homeowners with very low incomes, Section 504 provides grants, which you don't have to repay, to homeowners aged 62 and above. This loan mandates that the money must go towards te removal of health and safety hazards like black mold.
Additionally, to qualify for Section 504, you must be unable to otherwise get an affordable loan, and there are some location limits — this is intended for rural applicants. The United States Department of Agriculture & Rural Development administers this loan.
Weatherization Assistance Program (WAP)
Extensive heating and cooling bills happen due to poor installation and outdated HVAC systems which plague many low-income homes. States administer this program, which is federally funded, and they provide priority to households that include children, people with disabilities, and those over 60 years of age.
The WAP is a grant, meaning it doesn't have to be repaid, and it requires the use of a contractor that is pre-approved. This contractor will do an energy audit and complete a weatherization process. WAP work usually includes HVAC repairs, energy efficient appliance installation, and insulation upgrades.
Disaster Assistance
Homeowners in areas affected by natural disasters in the United States may qualify for aid from the Federal Emergency Management Agency (FEMA). There are many forms of assistance available from FEMA, but FEMA Individual and Households Program grant recipients must live in a declared disaster area. If you're affected and qualify, you can use this grant money to repair or replace your house and to secure temporary housing.
FEMA also serves as a hub to help you find other relief in times of disaster.
Home repairs are expensive, and you're not alone in needing to fix the problem before it gets worse. Find and apply to the appropriate federal government assistance program today.
Copyright 2023, DailyVibe.com