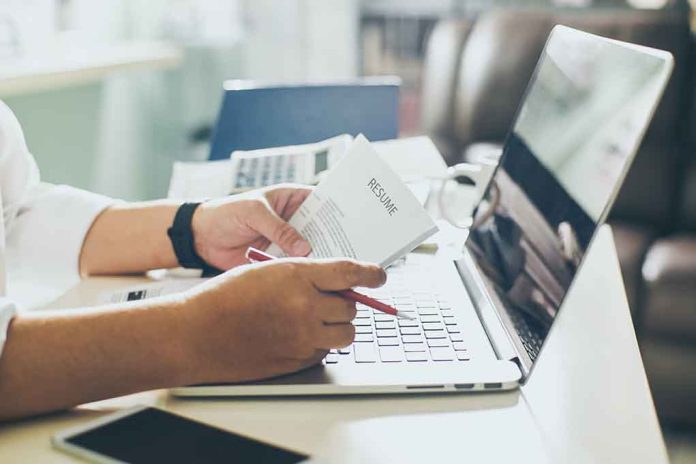 (DailyVibe.com) – Losing your job unexpectedly may be traumatic. Unexpected unemployment might leave you feeling conflicted, regardless of whether you were laid off or lost your work for another reason. It might be exhausting and time-consuming to start the job search or search for a stable source of income from scratch.
However, there are certain precautions you can take to safeguard your family's financial stability while you look for new chances.
Immediately File for Unemployment
Even if you are unsure of your eligibility, it is crucial to submit an application for unemployment benefits as soon as you lose your job.
Contact your state's unemployment agency to submit an application for benefits. They will also have a webpage where you may be able to start the procedure and submit your application.
Your first check will arrive more quickly if you fill out the form right away. It's important to keep in mind that many other jobless individuals are submitting applications just like you, so it can take some time for your state to handle and administer their requests. The sooner you begin, the sooner your benefits will start.
Budgeting is Key
Despite your anxiety or frustration over your unexpected job loss, it is crucial to make important financial decisions to prevent the stress that comes with financial difficulties. If you don't currently have one, creating a budget will help you decide how to spend (or save) the money you still have. Make a note of your current expenses and take a look at your existing assets and account balances to start. That will help you weigh how much you will have coming in, how much in savings (if any) it may take to keep you afloat, and how much you pay out every month.
Should You Use Your Savings Account?
The time to tap your savings may be now, but you should be careful with your spending. Spend only what is truly necessary to stay afloat (like housing, food and utilities).
Avoid using funds that may have been put away for more urgent needs. Your savings account should only be used as a last option and should be treated carefully.
Have debt from a loan, credit card, or student debt, for instance? Don't use your savings to pay it off right away. Discuss your present circumstances with your creditors to see if you can come to a lower payment arrangement or get late fees eliminated.
Remember to make plans for replacing the money you spend from your emergency savings after you start working as you need it. If there are any further uncertainties in the future, you'll want the account to be prepared and accessible to rescue you again.
Lower Your Expenses
When you're unemployed, keep costs to a minimum to prevent wasting money on items that don't improve your life. You are not replacing the hole left by your loss of income, so your best course of action is to reduce your spending and prioritize the basics. How you manage your money will directly influence how long you can maintain your financial situation while looking for a new job.
A few things to try:
List all of your monthly costs.
Eliminate spending on stuff you don't NEED.
If you have a family, be sure to inform them of the changes so that everyone is aware of the situation. Everyone in the home has to be aware of the benefits of leading a frugal lifestyle amid difficult economic times for this to work to your benefit.
Terminate any superfluous memberships or subscriptions.
Ask your service providers whether they may reduce your fees without affecting the services they deliver.
Get Your Resume Updated
It's time to hit the pavement and start your job search after you've made the initial moves to pay your monthly bills and organize your money. You should verify, polish, and update your resume before you start looking for work and submitting applications.
Many eligible people are competing fiercely for the same positions as you on the job market. Your resume must be exceptional if you want to swiftly draw in prospective employers.
Do a little online research about what employers in your career are seeking, and delete out-of-date resume content in accordance with the most recent job trends.
Don't forget to list any key details that employers may be interested in learning about you.
Update your references, and let your references know that they may be getting calls or emails from potential employers.
Include any abilities, experience or skills you have gained.
Make sure your phone number, personal information and email address are accurate.
Clean up your online profiles on social media and remove anything that you don't want an employer to see.
Remember to always personalize your CV and cover letter for the job you're looking for.
When you begin sending out job applications, spend time preparing and rehearsing for interviews.
Do your homework on the employers so you can ask questions in the interview as well.
Keep Your Chin Up and Move Forward
While out of work, having conflicting feelings is common, but try to be optimistic and work toward the future. This would be a wonderful chance to consider many elements of your life and make adjustments for the better. What drives you? What are your passions? What do you hope to accomplish? Spend some time writing down your future professional and personal goals. This will help you decide your direction.
This may even be a good time to pick up a new talent or skill to add to your resume or to use as a side business. In fact, this can be the ideal moment to pursue your interests and put your attention on improving yourself.
Regardless of how you are feeling, the most crucial thing is to make sure you keep going. Spend time with those you love and who care about you as you gain knowledge, take classes, acquire new talents, and discover new interests. Of course, take care not to overspend on your new interests while you don't have a regular income, but you can look into financial assistance for school if you choose to go in that direction.
Copyright 2023, DailyVibe.com