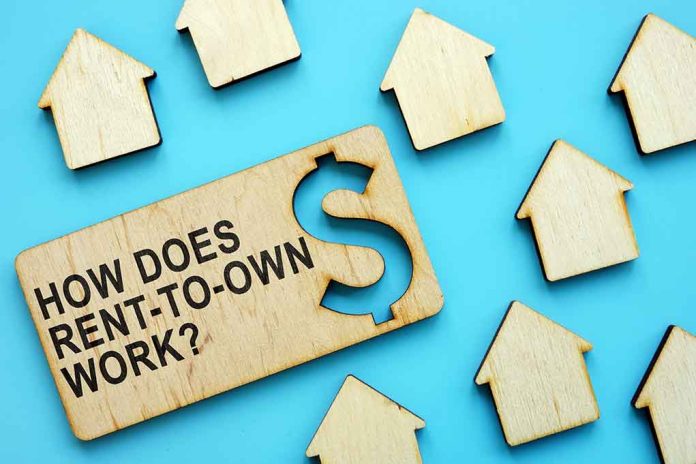 Ready To Level-Up To Homeowner Status? Rent-To-Own Could Be Your Answer!
(DailyVibe.com) – Home ownership doesn't feel attainable for everyone — after all, it requires a good credit score and a down payment to secure a mortgage at a reasonable rate. Plus, if you're renting and your rent is high compared to your wage, it's almost impossible to ever save for a downpayment or get ahead, which means you keep paying for an abode that is not yours.
If you're not in a position to purchase for any of these reasons, but you're still interested in becoming a home owner, rent-to-own might be an ideal option for you.
What is a Rent-to-Own Agreement?
In a rent-to-own agreement, the tenant rents the property for a predetermined amount of time; they are then able to purchase the home before the expiry of the lease. During the rental period, the tenant can build their credit and see if they really want to make a commitment to this particular home or neighborhood. Will the area change with the commuting and schooling needs of the family? What about if the family grows by way of another child or an aging relative coming to stay?
With a rent-to-own agreement, the landlord gets something out of it, too: a quality tenant and a continually occupied property. Both parties also have the option of locking in a sale price in advance.
How Does a Rent-To-Own Agreement Work?
When the rent-to-own agreement begins, the tenant is required to pay something called an option fee. This reflects a purchase price percentage, but it is a point of negotiation. This is what allows the tenant a buy option. Also, the tenant will probably pay rent that is a bit high compared to market value, but that amount is used as rent credit that counts towards the cost of the down payment. This helps the tenant avoid paying a larger sum at once, because they can spread it out over the rental period.
Lease-Option Agreement: With a lease-option agreement, the landlord is forbidden to sell the house to anyone else, otherwise the landlord is in breach of contract. Once the lease ends, the tenant has the buy option. At that point, the landlord and tenant may negotiate a price. Typically, this type of agreement permits both of them to get their own appraisers, and the contract will specify what happens if the independent appraisers provide separate values. In this case, the tenant is not required to buy the home, but they will lose their option to do so as well as the rent credits they earned.
Lease-Purchase Agreement: In a lease-purchase agreement, the tenant is obliged to purchase the home after the end of the lease. Unless either party breaks the contract or the buyer can't get a mortgage, both parties must commit to a home sale. In this type of agreement, the tenant is usually responsible for taxes and other maintenance costs that they would not be beholden to in a regular rental arrangement. Before signing this type of contract, make sure you're aware of what fees you will be responsible for.
Is Rent-to-Own Right For You?
Rent-to-Own might be the right option for you if you have decent credit but want to raise your score before getting a mortgage, if you know you can eventually qualify for your mortgage, if you have debt you'd like to clear before purchasing your own home, or if you need time to increase your history of employment.
If you're interested in a rent-to-own arrangement, it's necessary to secure the services of a real estate attorney to advise you on any potential contract before you sign. With the right counsel, you could be building credit towards home ownership within weeks.
Copyright 2022, DailyVibe.com