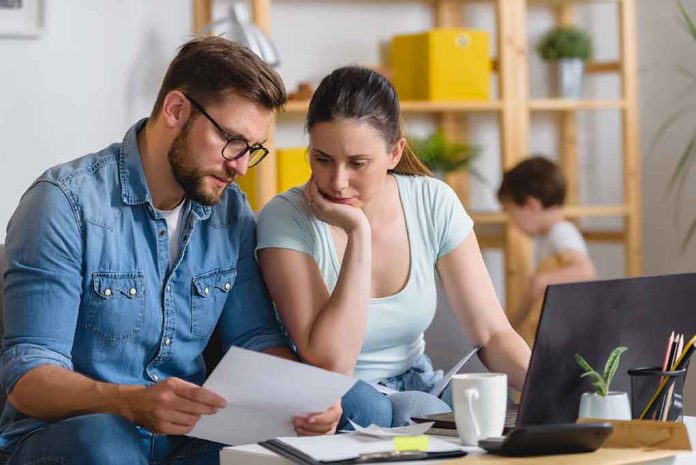 (DailyVibe.com) – There's no shame in struggling with financial woes. Many individuals and families find themselves with money or resource issues every day. It is unfortunate, of course, that many people are within one job loss, one family emergency, or one illness away from facing serious financial issues. Still, there is help available if you find yourself facing tough times.
Whether you live in an unsafe or unstable housing situation, are struggling to find any housing at all, or simply need to be able to better feed yourself and your family, there are programs through the federal government for many kinds of situations. No matter what you are currently facing, there is likely a program for you.
While there may even be more help on a local level than provided for you below, here you will find an overview of some of the absolute most helpful assistance that is provided in the United States to anyone who needs it. There are various types of relief for the different challenges that you may be facing, including for housing, for healthy food, for heat and energy, and for children.
Section 8 Program
Through the U.S. Department of Housing and Urban Development, also known as HUD, there is a program commonly referred to as Section 8. The Section 8 program is for those with disabilities, senior citizens, and low income families. It is one of the most popular housing programs in the country, as it provides safe and affordable housing. Even more importantly, Section 8 isn't limited to subsidized housing projects, but is a rental voucher system. This means that a person who uses this program can choose any apartment, townhome, or single-family home that accepts Section 8 vouchers. Home and apartment landlords that accept Section 8 must be approved by the program to ensure that the residence is safe and sanitary. This helps those on the program to avoid having to battle slumlords for repairs or over safety issues simply because they don't have anywhere else to go.
It is important to note that once eligible for Section 8, you do not need to stay in the same town or city where you're currently living. As it is a federal program, you can live wherever you want so that you can seek better employment, or choose to be near family, better hospitals or school districts. This program allows you to help yourself seek a better life for you and your family.
There will be some criteria you will need to meet in order to have access to eligibility for this program, of course. You will need to apply through your local Public Housing Authority (PHA), but you can also contact your local HUD office if you need help. The application will be looking at your citizen status, the size of your family, your income, your eviction history, and other criteria.
This program is for people who are well below the median income for the area, as it is truly for those who are in serious need of stable housing. If you are truly in need of safe housing and struggling to afford it, it doesn't hurt to apply, even if you think you might make too much money. First, it is free to apply, so you don't lose anything through trying. Secondly, the median income in your area, when adjusted for the size of your family, may be higher than you think. If you make 30% less than the average income, you may qualify.
If you truly do exceed the guidelines, there are other housing programs that may help, even if you don't qualify for Section 8.
More Housing Assistance
Outside of Section 8, other federal, state and local housing programs are available. As the threat of losing housing based on income loss or other financial crisis is one of the greatest and more prevalent issues we face, there are plenty of other opportunities for help. Local public housing, state emergency assistance, and other federal programs are available for those who are facing losing their home or in financial crisis. The federal government has direct loan programs for those living rurally and HUD often funds public housing in communities all over the country. As what you will be eligible for may vary by state or community, contact your local assistance office for more information.
Nutrition Assistance
One of the things you may experience during a financial crisis is limited access to enough food for yourself or your family. The Supplemental Nutrition Aid Program, also called SNAP, is a federally funded program to make sure families have nutritious food on limited incomes. All you need to do is apply, and if eligible, you would get an electronic benefits transfer card (EBT). Your EBT is used like a debit card at stores and shops that accept SNAP as a method of payment. Your SNAP benefits for the month can be used to buy approved items to help supplement the amount of food your family has, such as dairy, bread, vegetables, meats and even some snacks. You can even buy some kinds of seeds and plants with SNAP benefits so that you can continually grow your own food.
Assistance for Heat and Energy
Having enough money for rent or a home doesn't seem to give much security when you are afraid of losing your heat, electricity, or other energy source. There are many local and government welfare programs for energy assistance. When you've lost income or are in a financial crisis, you may find yourself choosing between food on the table or heating your home. Government financial programs know that there may be an array of things citizens need help with, and so there are multiple programs available, including LIHEAP, depending on your location. Contact your local or county assistance office for ways to apply and check your eligibility.
Nutrition Programs for Children
From reduced or free school breakfasts and lunches to more direct programs in the summer, there are multiple nutritional programs for children so that they don't have to go hungry.
Many of these programs are done through schools and daycare centers, so applying directly through the school or daycare you use may make it so that your child can have a reduced, or even free meal, at least once or twice a day at school. Some federally funded programs through your state may also help with nutritional education as well as meals and milk for kids, during the summer months.
Temporary Assistance for Needy Families (TANF)
The Temporary Assistance for Needy Families program, also called TANF, helps families in financial need with multiple resources. While it is state funded and therefore may vary by location with the different kinds of help it may provide, people who have children, who are pregnant, or are 18 and younger and acting as the head of household may be eligible.
TANF offers support in the form of child care costs, cash assistance, job training or job opportunities, and sometimes other kinds of aid as well. The idea behind the program is to lift people out of poverty by giving them the support, services and tools they need to eventually make it on their own. While each state may be different, TANF can work in concert with other programs as well, such as energy assistance or SNAP, as mentioned above. While self-sufficiency and financial independence are the ultimate goals, programs like TANF can be a true lifesaver during times of crisis.
Getting help when you need it can make a massive difference in times of financial peril. Government assistance programs can help you get back on your feet, so that you can get back in control of your life. While some feel that government welfare programs have a stigma attached, remember that you've paid into these programs every time you have paid your taxes. In essence, it is your own money coming back to you. These programs are there for you in your time of need.
Copyright 2023 Dailyvibe.com